INDEX
PRELUDE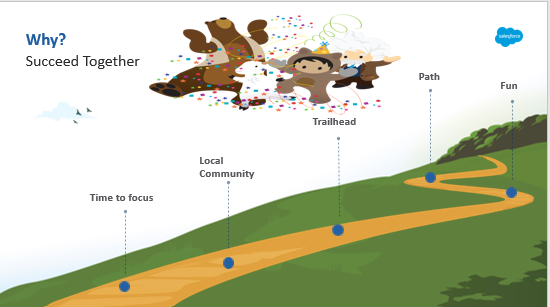 If you're coming here to learn why to do a SalesforceSaturday, then we recommend Antonela Lula's Boston World Tour presentation (slideshare here). It's also prettier and more visual 🙂
This guide focuses on how to do a SalesforceSaturday.
What are SalesforceSaturdays
In a nutshell SalesforceSaturdays are a place where people come together to learn more about Salesforce. In the process we have fun and, inevitably, we grow* as individuals and as a community. Anyone willing to give up their Saturday morning is very dedicated to the cause, or at least more willing to have a nose around, than your average Gwen. *And that's not just from the cakes.
An important word about usage
SalesforceSaturdays differ around the world. In APAC they are even called something completely different ("TrailheadTuesdays"). This edition, crowd sourced, tells you what works for the Dutch community.
It is a recipe - every SalesforceSaturday has its own recipe, a combination of logistics, aims, kindred souls and other events that are occurring nearby (both geographically and in terms of time) - so go with the flow and see what happens! Be happy to change on the fly, see what works, and doesn't work, and, above all, don't overthink it. That's the point of SalesforceSaturdays, that they're easy to set up, and get on with.
How are SalesforceSaturday different from Community Groups
Please feel very free to skip this section - it's just for those who are curious, particularly Community Group Leaders.
We like to think that SalesforceSaturdays are more informal smaller/cosey, interactive affairs (ok, when everyone's not got their heads buried in a laptop), whereas Trailblazer Community Groups are a more passive, typically larger and more formal experience.
There's space for both types of networking, learning and sharing in the Ohana. Many of us who start going to SalesforceSaturdays also end up going to Community Groups (or vice versa!). It's a virtuous circle 🙂
Community Groups are meetings typically organised about 2-3 presentations with networking time before, during or after. Salesforce also give some seed money and content suggestions to help make them happen. Usually they're not on a Saturday. Behind the scenes there's also some formal rules and codes of conduct that Trailblazer Community Groups Leaders must subscribe to.
The key takeaways are that the support network for SalesforceSaturday is informal, and there is no funding, which has pros and cons. The aim is largely the same, the style very different.
n.b. There's nothing to stop you being a Community Group Leader and run a SalesforceSaturday - many people do; but even better if you grow the community and encourage someone else to set up the SalesforceSaturday (you can still help out!).
LOGISTICS
Location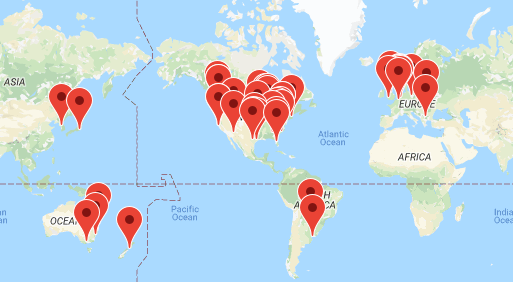 You can't do anything without a location. As you don't get any funding, and shouldn't charge (to make sure that the event is accessible to everyone regardless of circumstance), you need to find a free venue. Some options include:
Local Cafe or Restaurant - for both of these, find quieter ones, and ask if they want to open early if they're not normally open. A bank of ready customers might mean that they are willing to flex their opening hours. Chain restaurants (e.g. pizza establishments) might be willing to open their doors while their staff get ready for the day, especially if they sell some cakes
Libraries
Office/co-working spaces
Virtual (as with the New Delhi group)
For all of these we recommend asking permission from the owners first, to help create that welcoming atmosphere and avoid any misunderstandings. Also, thanking your hosts on social channels can help solidify a spot for future meetings 🙂
Also, check for power points and good wifi! A pro tip is to bring some power bank extensions.
Meeting frequency
It turns out that this one's easy. You're focusing on learning. You need to be meeting at least monthly to achieve this in a meaningful fashion and to get into the right habit. Some groups meet even more frequently - e.g. weekly or fortnightly.
By the end of each meeting, the date for the next meeting should be announced. Even better if they are scheduled a few months in advance and announced - it makes it easier for those with other commitments to plan.
The best plan is to say "We meet every X Saturdays" or "We meet on the Xth Saturday of the month." Over time this might shift too. You might start out monthly and move to fortnightly, for instance, later on.
Timings and length
How long should a meeting be? This one is up to you of course. Here our meetings tend to be advertised as starting at 09:30. People wonder in at their own time, but most are there by 10:30, with the groups generally disbanding around 12:30.
The key is that people wander in and out, depending on their mood, availability and how much of a morning person they are. It makes group activities/content a little harder but not impossible.
And a reminder, that you need to tailor it for your community. The reason that ANZ region meets on Tuesdays evenings is that people typically head outdoors, to appreciate nature, over the weekend. This author is a little bit jealous!
Content
The easiest way to start is just by people doing Trailhead. You can work solo, in pairs or in groups.
When you feel you have reached "quorum" (most people being there) you might want to go around and do introductions - talk about what people want to work/focus on. This can be more than enough for a session.
In Amsterdam, we have "Salesforce Muckups" which we start towards the end of the session, to allow people to talk about the successes and failures they've had over the last week, to give time for reflection and feedback. It's a good way to change the energy levels and an excuse for everyone to learn a little about each other.
As time goes on, you might want to progress to doing some presentations, but keep the spirit of the group. These are more formal. Anything from 5 to 30 minutes, allowing people to practice their skills, but not to interrupt too much from the rest of the morning. Or you could go "ad hoc" and people ask if anyone knows something about a particular topic (but keep it time-limited!).
But also reach out to local groups and check what lessons you can learn from them.
Meeting platforms
Technically you don't need one of these, but it helps manage expectations, means you can communicate with everyone and have an idea about how much space you need.
Eventbrite is free. Here we like Meetup because, even though there is a small charge (which you will have to cover), lots of people use it to discover local activities. This means people turn up who won't have even considered Salesforce without happening to spot it. Whatever works for your local area!
Example SalesforceSaturdays:
Aalst (using the Trailblazer Community Platform)
Amsterdam (approx 60% of groups use Meetup)
Chicago (using the Trailblazer Community)
New Delhi (online sessions using Zoom)
Oakland (approx 30% of groups Eventbrite)
South Korea (using Facebook)
Tokyo (using Heroku!)
Vancouver (using Twitter)
...and some use a combination
Advertising
No use having something wonderful to share if no one knows about it, so…
All social media - Facebook, LinkedIn, Twitter and the Trailblazer Community come to mind, especially if you tag in attendees as this helps increase the impact of any messages, but whatever works in your geography. We particularly like the #SalesforceSaturday hashtag
Leverage your local Community Groups - turn up and ask for a few minutes for you to explain about SalesforceSaturdays, or add the dates to their wrap up slides. Consider keeping the Community Group Leaders up to date before, during and after as often they'll be able to support you and you can bounce ideas off them
Word of mouth
Set up a WhatsApp/Slack/Trailblazer Group/similar group to stay connected the meeting, which helps people remember about the next meeting too
Basically "work it", and do post to social media afterwards with photos, tagging in members; people engage with these and often reshare it (which is what you want!).
NEXT STEPS
Simply put: don't hold off, get going!
What's the worst that can happen? You have a cup of tea in the morning and do some Trailheads whilst waiting for people who may join you?
You're unwell! (something happens)
Running a SalesforceSaturday is great, but if you're unavailable due to a cold or other equally traumatic life event (e.g. kids birthday party), then you don't want everyone else's fun to stop. Eventually look for a co-leader or two to run the group with you. That way you can run it in turns, perhaps increasing the frequency, and/or bounce ideas off each other. It also helps in that you can share responsibilities (publicity, venue hunting, etc). Basically, you're putting on the SalesforceSaturday, but the biggest sense of achievement comes when it is self-sustaining and can run without you(!)
Extra resources
Fancy having an interactive quiz or poll? Give Sildo a try.
Have a look at the global SalesforceSaturday map. Use that map to see other groups - click through to see their own sign up pages and contact details. Simply contact us if you want to be added (currently this is looked after by the DutchSFCommunity)
There's a global SalesforceSaturday Slack where leaders (that's you!) can ask questions, discuss and participate in future plans. Reach out to any existing SalesforceSaturday leader who will be able to add you
There's also an official SalesforceSaturday website but its currently on the backburner for the moment
TopTrailblazers for those that want a bit of competitive fun
Article: Creating My SalesforceSaturday Group (by Bill Powell)
Article: So You Want To Start a SalesforceSaturday (by Bill Powell)
Thank yous: Here's this team
First of all, thank you for reading. We hope it's given you food for thought.
Thanks, in particular, go to Stephanie Herrera MVP, founder and leader of SalesforceSaturday. Also for her support during the writing of this guide.
And also to:
And to the proofreading team: Becky Miller, Eli Kaufman, Mary Tagler, Olga Shirokova and Prag Ravichandran Kamalaveni